Why the 0%?
You may be wondering why I bothered including two projects under WIPs that have 0% progress on them.
I feel the need to explain. :-) I do that a lot, as you will discover.
Priscilla's Dream Socks
is a lovely pattern for a streamlined, short-row heel & toe sock designed by Priscilla Gibson-Roberts (author of
Simple Socks: Plain and Fancy
. (It's a subscriber download on Interweave's site). I found some Sirdar Snuggly yarn in a luscious lilac and came home eager to knit. So why the delay? Well...
One of my first knitting projects was a pair of what I now call Awful Socks. I wanted a pair of thick, warm, boot socks but for some reason chose to knit them out of inexpensive, coarse, itchy, hideous dark brown handspun wool. (What was I thinking?!? and yes, they are a wonderful example of Extreme Beginner Knitting!)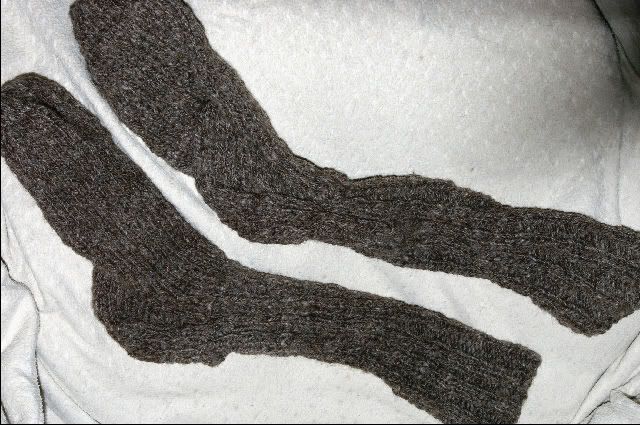 I must have understood the concept of knitting on DPNs at one time because I managed to successfully finish not one but TWO socks—a whole pair! So when I sat down with my lovely skein of lilac Sirdar Snuggly and a set of four size 2 DPNs, cast on (after swatching, of course) and began to knit... disaster struck.
I didn't remember knitting on DPNs to be as difficult as this.
Hmm
, I think.
Maybe it's the needle size (much smaller this time) but I can't seem to get in there and work the stitches. Geez, it's hard!
I truly believe I'm doing it correctly. After all, as I recall,
it's the same as knitting on circulars except these make a square... right?
My four DPNs form a perfect square. I've joined the yarn. I'm holding the needle on the left side of the square in my left hand and using the top needle as my RH needle. The other two needles are dangling beneath my work. I'm struggling and struggling and cannot get the hang of it. I frog it. I re-cast. Struggle a few rows (
this can't be right, I've an extra stitch somehow
). Frog it. Re-cast. Struggle. This time I'm not only saying "Frog it" but I'm replacing the "rog" with another set of letters. *ahem*
Finally, in absolute disgust with myself, I wind the yarn back onto the skein, put the DPNs back in the needle case, snarl at the pattern and resolve never to waste my time knitting on DPNs ever again. But the yarn keeps calling to me.
A few days later, Knitty Gritty broadcast a show on sock knitting, and I happened to page through one of the gajillion reference books I've acquired in preparation for the Masters, and that's when I found the bit on knitting on DPNs—
Oops.
*blush*
So if you have four DPNs, you use three for cast-on, and the fourth to knit with? And you knit on the needle on the RIGHT side of the triangle (or if using a set of five, the right side of the square)?
Oh, duhhhhhhhhhhhhhhhh.
Therefore, the project is still on the list, now that I have seen the error of my ways. It will live to be cast-on again. But it's on backburner for now while I develop this blog and work on my Masters swatches.
The
Aran Baby Sweater & Hat set
is at 0% because I've only just decided to do it. But since it might be either a Christmas present or baby gift (depending on whether Christmas comes first or another friend gets pregnant), it must be on the list. (This list isn't just for you, ya know! LOL! It's also my reminder notice!)
In other news
, it's official, I have bronchitis either "again" or "still" depending on how you look at it. About three weeks ago I came down with a scratchy sore throat, cough, and general malaise. I went to the doctor when it didn't go away after a week. (It's been a hard year. I'll talk about this right now, but I'd rather focus on my knitting escapades than on depressing subjects. My beloved Dad got sick in December 2005 after falling and breaking his hip and shoulder and was in and out of nursing homes until his death at 88 on June 7th, and my 86-year-old Mother needed lots of help because he really was her Main Man in every way. She's fully cognizant and mobile with a walker, but she has cataracts, severe osteoporosis, and asthma. She no longer drives, so in addition to being her chauffeur, Dad took care of all of the financial, legal and household matters including cleaning. So she really couldn't get along without him while he was in the nursing home. A month after my father died, she was diagnosed with advanced cancer of the esophagus and liver and given a poor prognosis—three months to two years, now that's what I call "being precise"—so I packed up my house, my five cats, and my yarn stash and moved back home to take care of her. Ah, the benefits of being "between careers, relationships and children", of which I have none. :-) Yes, it's the hardest thing I've ever done and hopefully will ever do, but she needs me and I need her and this is the way it is. But because I've seen the inside of way too many hospitals, nursing homes and doctor's offices in the course of nine months, I was very reluctant to go for myself.)
Doc put me on a five-day Z-pack antibiotic and Entex. On Day 6, I felt good again. By Day 7, I began to feel not so good again. By Day 9, Mother was in the hospital (nothing major, a bit of weakness but they wanted to observe her for strokes and get her feeling better) and I thought the "break" would allow me to recover.
Apparently, it didn't, because the day after I brought her back home, I woke up feeling twice as bad as the first time. This time, it's a 10-day antibiotic (a "real" one, it comes in a bottle, not a cardboard blister pack) plus a high-dose course of steroids (prednisone). Interesting feeling, that. I'm exhausted and want to sleep, but wired out of my gourd at the same time. And I have the hiccups. But my back and knee don't hurt anymore (prednisone apparently has anti-inflammatory agents as well).
About the back and knee and then I refuse to discuss my health like some senior citizen (which I ain't, I'm the baby of the family and only in my 40s): the knee has broken cartilege resulting from a lovely fall on my former tile floor last November, and my back... well, it's a mystery. My
other blog
, which is somewhat inactive right now, concerns my horsemanship activities. I was thrown from my horse five years ago because I wasn't savvy enough to read him, and sprained my back badly and developed all sorts of fear issues (too long to go into here, it's in the other blog). Luckily I found
Parelli Natural Horse-Man-Ship
and I've never looked back. I even learned how to dismount safely in an emergency and practiced it diligently.
Ironically, the one time I went against all I've learned and got on a horse I shouldn't have, I fell AGAIN (in May, at a NON-Parelli clinic). To my credit, it wasn't my horse, it wasn't my saddle, and I really had no business being on that horse in that clinic, but that's another long story about why I was up there on that horse and I won't tell it in a knitting blog. :-) Suffice it to say, I made an ungraceful failed emergency dismount but was unhurt save for the bruise on my butt and my ego. But my back started feeling out of whack and lately it feels like one vertebrae is off kilter. Doc had me xrayed and the results come back next week. He asked how I felt about chiropractors. I said "I've used them on my horse"...
Excuse my verbosity tonight. I just love being this wired. Gack. It's 5:09 AM. Must sleep! Cannot knit well when tired!