Stash Time
Well, it was only supposed to be a needle run. It turned into full-on S.E.X.
(Wow. That should get some interesting Google hits! All I'm missing is the Rock N Roll.)
I went to my LYS,
Fiberworks Knitting & Weaving
, and picked up some Brittany DPNs. Of course, they were all out of Size 2 and the order will arrive tomorrow. :-/ They had Lantern Moons, and I'm drooling over the Rosewood, but they did not have the smaller sizes in stock. So I satsified the tiny needle urge with some 0's, 1's, and 2.5's. That'll hold me for a day or so, LOL.
Grabbed the Fall KnitScene with the ever-popular
Central Park Hoodie
(CPH) pattern,
finally
laid my hands on Classic Elite's Tweed Four pattern book (I lust after the
Cabled Pullover
—what is it about twisty windy knitting that attracts me so?), and inquired about the yarn for the CPH. LYS did not carry the recommended yarn (Tahki Yarns
Donegal Tweed
). A swatch book told me why. To me, it felt like rug yarn! Itchy and scratchy and I'm not talking South Park here, I'm all about Central Park, right? So we began to look for a substitute.
I wanted something tweedy or heathery—in other words, not solid. I get bored with solid. My personal vision of Hell would be knitting a plain white solid 100% wool or 100% cotton sweater—no blends of silk, mohair, or anything else—in pure stockinette stitch on small needles. (For the non-knitters reading this, if there are any, hee hee, that means knit one row, purl the next, repeat, and small needles means lots and lots and lots of tiny little stitches.) BORRRRRing!!!
But I digress.
After scouring the stock on hand and not quite "feeling" it, the LYS fella remembered a brand new box had arrived from Cascade that afternoon and they hadn't opened it yet. Like kids at Christmas, we pulled it open. And that's when I found IT.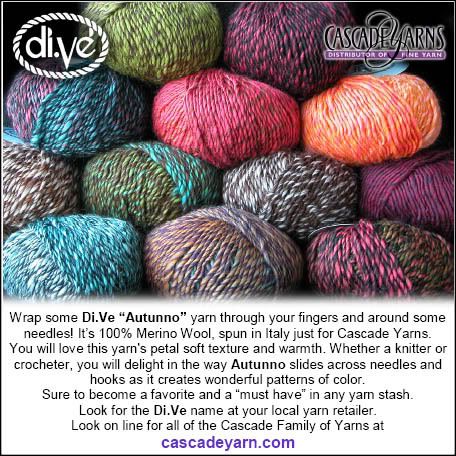 Di.Ve Autunno!
No, I have no idea what that translates to, but the yarn is amazing! Soft, slightly shiny, and it's a colorway. I chose #25741 in teal and brown. It will gradually modulate between the colors as I go. I cannot WAIT to delve into this. It almost makes me want to stop sock knitting for awhile.
I also discovered, and forgive me if I'm way behind, Jacquard sock yarn. I found a lonely skein of
Froehlich Wolle Blauband Jacquard
#7821 (green, charcoal, grey, white), which is only enough for one sock. We searched the bins high and low, but could not locate its friend. Sadly, I put it back. A new friend cannot be ordered because the company no longer produces the yarn. Rumor has it Cascade has bought the dye formulas and will be bringing it back later, but for now, too bad so sad, poor lonely little skein.
Of course I turned to the internet, and I ordered two skeins from
A Stitcher's Haven
.
Then I signed myself up for a two-day weaving class and bought the yarn for the scarf project.
Oh, my. What have I done? LOL!