Notes From Beyond
Saturday, I was sorting through stuff stored in the kitchen buffet. The mess consisted of old art supplies, address books, dictionaries, stationery, and papers—clippings, greeting cards, etc.—from God knows when belonging to me and my Mother (Dad always
carefully
filed his elsewhere). Among the papers, I found a little notecard, addressed to me: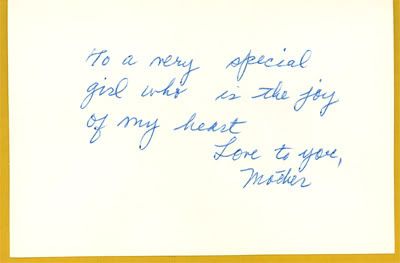 Can you say, "instant sobfest"?
I don't recall when I received it or what it was attached to. It's interesting, though, that I found it only an hour after wondering aloud:
if I turn out to be someone other than who they thought I would be, if I make choices in my future that they would never have approved of, would they still love me regardless?
I guess I got my answer.