Oh, No, She DI-unt...
Oh, yes, she did!
She's gone on another S.E.X. binge! (That's twice in one month! Yarn Hussy...)
Look. It's Christmas. My home stash isn't supplying me with the right yarn for the jobs. It's OK. It's Justifiable Yarnicide*. With all the carnage, it was necessary to round up replacements.
Like this: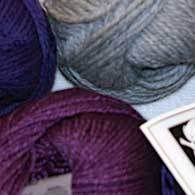 There is a theme brewing. Hmmm. What could it be? There is some noticeable similarity here between the
Encore
in "Color #2426" for the
Celtic Knot Scarf
, the
Rowan Silk Wool DK
in "Velvet" for the new
Fetchings
, the
Classic Elite Premiere Pima Cotton/Tencel
blend in "Color #5295" for the other
Fetchings
for the Allergic-To-Animal-Fibers person, and one of the skeins of
Brown Sheep Nature Spun
for the
Zimmermania Norwegian Mittens
project--OK, that last one is just for me. What IS it about these yarns that seems so... so... familiar?
(Yeah, yeah. I know. I couldn't resist.) Yep, they are all a shade of PURPLE. As I gravitated toward the perfect color for each person on my list, I realized, "Hey! They all really like purple!" It's true! It's not just
my
preference. That might explain why we all looked like Grape Apes at the Allergic One's wedding in 1995 (she chose startlingly purple bridesmaids gowns but we all looked great in them--rather, the
color
looked good on us, the dresses themselves are another story).
Again, even more Crystal Palace DPNs (don't you have enough already, Jeanne?) and the pattern for the Celtic Knot Scarf. The scarf is really cool. I think the pattern was created by someone local; it's a xeroxed sheet with no photo or drawing on it. The reason I bought it was because the LYS owners had strategically placed an FO amidst the wool worsteds. I took one look, grabbed the FO, held it up and said "What is this? I need this pattern!!!!" Hmm. I wonder if I had a rabid gleam in my eye because he really hopped to and handed me the pattern in no time flat. I didn't even read through it, I just noted the yarn requirements, grabbed the skein, and moved on.
If I can describe it--imagine a circular motif about 5 inches in diameter. It's a round celtic knotwork design. Now, imagine that somehow, someone ingeniously figured out how to take two ends of a scarf and cross them, and work the celtic knot motif so that it is as if the scarf were "knotted"--yet it is flat, because it's all woven together via the celtic motif. It is knit entirely on circulars because of the I-cord involvement. When I have pix I'll post them.
Speaking of, Xmas Ornaments:
I'd best get to my knitting now.
*No skeins were harmed in the making of this post; any resemblance to any yarn frogged or WIPed is purely coincidental. This post has been monitored and approved of by the ASPCY (American Society for the Prevention of Cruelty to Yarn).