Some Assembly Required
Please excuse the non-loom-oriented messiness of the living room. It's in transition. Why are there three couches, you ask?
Musical furniture.
The blue-grey one (left, a sofa bed) was in the 3rd bedroom (which actually isn't a bedroom now, it has a wall of sliding louvered doors separating it from the dining area which would be to the lower right, past the folding louvered door). The red floral (center back) was out in the family room (former garage, remodeled circa 1978). The pink leather one (right) has always been there.
When Mom got sick and I moved in, I brought my own couch (#4, also a sofa bed, in family room, not shown, strewn with cats) and my bed (of course). We played musical furniture. Mom had been sleeping in my old room but had been having difficulty getting out of bed (old bedframe, really high mattress even I can't get in and out of easily) so we (meaning my nephew-in-law and I) dismantled Mother's bed, opened the blue-grey one, removed the sofa bed part, and put her big gushy mattress on it. Essentially she moved into BR #3. Not long afterwards, she needed an electric hospital bed. So blue-grey moved to the living room in front of the fireplace (where red floral is now). The day I moved in a couple weeks later, we (meaning the movers) moved her bedframe out, moved my stuff in, set up my bed in my old room, moved the red floral in, moved in my couch... etc.
Now, everything's in transition while the estate gets settled. Blue-grey goes to a niece in PA; red floral goes to Nemesister (also in PA); pink leather is mine now. There is other furniture involved (chest of drawers, upper
right
left) that has to go. So until they can coordinate moving, guess who gets to live in the mess?
Yup.
Anyway. This is about
THE LOOM!!!
Those are the boxes and the 90 miles of paper used for stuffing. It expanded exponentially upon being released to freedom. I'd save it for the cats but I might lose them in there and never find them again.
Close up of boxes:
These are all the lovely wood parts I get to oil and sand. Twice. (Sand once. Oil twice.)
Look, more wood parts.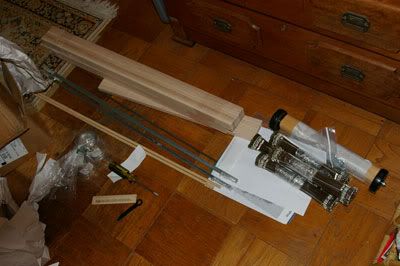 Instruction manual: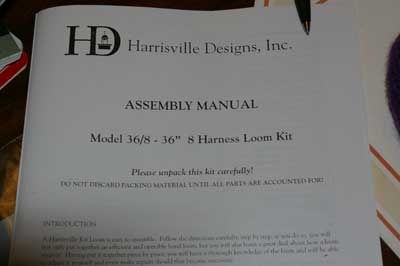 Parts Inventory Checklist (with my notes):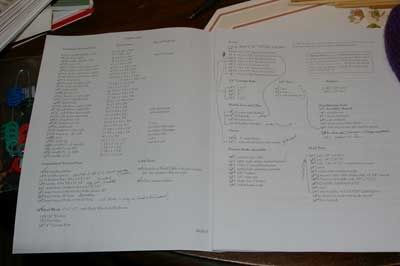 See that highlighted area? I just took their word for it.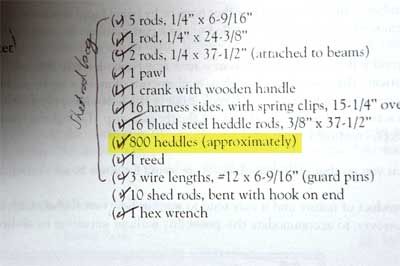 Groups of 200, I'm assuming. Every single one of them gets strung onto the heddle bracket thingie. All. Eight. Hundred. Of them.
Lookie, tools! Every girl loves tools. And a ruler. And sticky labels.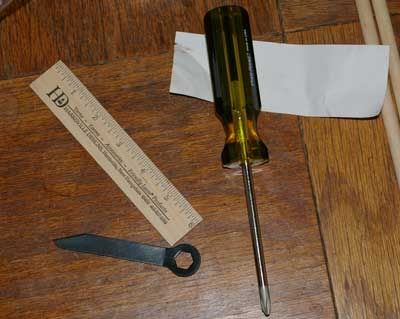 Those are pulleys. Each of those tubes contains 20 of 'em.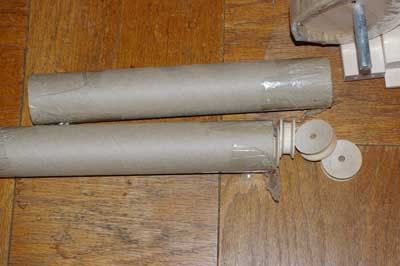 Like my "panoramic" view of the Studio Accessory kit? Bobbin winder... warping board and loom bench (unassembled, of course, and in need of sanding/oiling too), shuttles, bobbins, shelf for top of loom... another can of oil... and...
...what's
that?

Why, MORE YARN, of course! Five skeins of
Harrisville Shetland
. FREE! Cocoa, Camel, Russet, Peacock and Hemlock. Yum.
I now have a valid reason to rise before noon! *
ducking the hurled tomatoes from the people who are
plagued
blessed with a job
* Seriously, this sucker has to be sanded, dusted off, oiled once, left to dry for a half hour, oiled again/dried, THEN assembled. The LYS put together four of them, said it takes about four hours per loom (assembly only). I have my work cut out for me.
Fear not, it's safe from feline claws. The cats are not yet allowed in this part of the house (folding louvered separator doors are wicked cool, good call, Mom!) and they won't be allowed anywhere near my loom room (once I can take over again). BR #3 I think will be the room. Except it's kind of dark in there because the window now looks out onto the sunroom. One of the BRs, anyway.
What's Next?
Sleep. Just kidding, of course. It's December 19th (still for another fifteen minutes anyway). I have so far finished:
the Celtic Knot Scarf (except for weaving in the ends)
One of the two Monkey Socks
Half of one of the two Mountain Colors Fascine Braid Socks
One-fourth each of the two Besotted scarves being knit simultaneously
All the ornaments (for my family, at least)
I need to finish those, then after I return from my brief Xmas visit, I must:
make a pair of Fetchings for a friend
make a skinny scarf on huge-a$$ needles for a friend
make up a set of ornaments for skinny scarf friend (Fetchings' are already done)
write my Xmas cards
post my 6 weird things (since I practically begged Sheepish Annie to tag me)
So although I am dead tired and foaming at the mouth all week to start in on the loom, I must instead knit for awhile. Early to blog, early to bed, early to rise...
In other news... this sounds like a good idea to me:
Knit From The Stash 2007
. There are rules, and there are exemptions. My stash is overflowing. Of course, I'm claiming an exemption for weaving materials. ;-) (Well, I have to. I just bought a loom, I'm signed up for advanced weaving next semester, and my weaving cone stash only fills one really big box. I need more.)
That's the update. For now. Stay tuned. Assembly pictures as I go, I promise!