Mah Stash
Looky what I got the other day (click for big photos):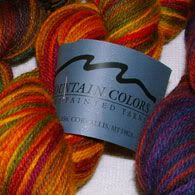 Left: Mountain Colors Patterns: Family Socks, Kathy's Socks, Fascine Braid Socks, Leslie's Double Eyelet Socks; two skeins of sock heel/toe reinforcer; MC Bearfoot in Tamarack and Gold Rush; MC Weavers Quarters in Crazy Woman

Right: MC Weaver's Quarters in Wild Flower** that I'm gauge swatching for Leslie's Double Eyelet Socks. The pattern calls for size 2 DPNs; I was advised that I'd like it better on size 1.5 DPNs. Of course that necessitated buying the 1.5's ;-)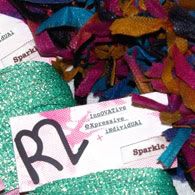 Left: Lorna's Laces in Gold Hill

Right: Freebies! Three mini-skeins of I-don't-know-what and two balls of Trendsetter Papi
that were in the Mystery Gift Bags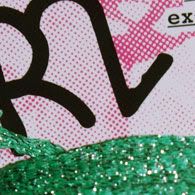 Left: Check out the coolness! Dots all over the fringies!

Right: Does anybody recognize this logo? If so, can you tell me what it is? I didn't open the MGBs until I got home so I couldn't ask the LYS people.




Left: Last but not least, the amazing Fiberworks Tote Bag!

**This poor ball of yarn. I nearly destroyed it. Before leaving the LYS, I was asked if I needed any of it wound into balls for me. I gaily said (high on the endorphine rush of an über yarn crawl):

"No, thank you, I have a ball winder at home!"

...and giddily floated out the door.

When I got home, I realized the importance of swifts... or willing children, partners, roommates, etc., of which I have none, lest you count the furry ones and we all know what happens to yarn when we ask the cats to spread out their paws so we can wrap skeins of yarn around them.

I tried to do it myself swift-less. BIG mistake. Not gonna do that again. Luckily I stopped the foolishness before utter chaos set in. With much embarrassment, I undid what I'd done, and attempted to put the hank back to its normal order as best as I could. Then I twisted it up and tucked it in. I made a special trip to Toledo just to have it wound correctly for me as, alas, nobody in these parts has a swift for sale, except the LYS where I bought and got wound, and it was nearly $100 because it was "finished".

Ack.

While in the area on my "special trip" I cruised past my old house (which I still own, I just haven't quite unloaded it yet and still have a few boxes there) to pick up this ancient handmade warping reel that I acquired when I bought a 24-inch Clement Table Loom many moons ago (1997, maybe). Momentary digression: The loom belonged to a senior lady who had just moved into a retirement condo with her DH. The price in the ad was unbelieveable. I thought for sure I'd call and find out they'd left of a zero. Nope—it was a couple hundred. SOLD! It's a neat little thing. She'd splurged and bought the table that went with it, which has four treadles so it can be turned into a four-shaft "floor" loom of sorts. With it came a huge box of yarn, another huge box of old weaving books, patterns and Handwoven magazines, instructions for using the loom (in French), and lots of tools. Plus the warping reel. Her DH had made it for her. It works... but it's wobbly.

I thought, well, it's upright and it spins, so

maybe

I could use it as a substitute swift until I feel up to spending more money. Haven't tried it out yet. After examining it, I think I'll just splurge for a swift. There are less expensive swifts out there.