I Can Still Rock In America
OMG. Warning: EXTREMELY LONG picture-heavy post. I had the BEST NIGHT Friday night.
Weekly Horoscope for the week starting 16 July 2007 (emphasis: mine)


Saturday [does "between the hours of midnight and 6 AM Friday Night" count?] is good for joining forces with a group of people [such as my old band, perhaps?] or a committee to see how you can come up with some revolutionary ideas for the good of all concerned [such as how to use technology to our musical advantages, maybe?]. This could involve people from afar [CA, NE, and MI count as "afar" in relation to OH, right?] or who are of a different nationality, or were born in another country. You may make some very unusual friendships today or become involved with a group of people who think outside of the square [yep, it's the band]. This will also stimulate your interest in other belief systems and/or philosophies and may trigger a desire to explore foreign fields [???]. Whatever you do or experience now will make you feel more alive than ever. [surprisingly accurate!]


Horoscope courtesy of Kathy Cooper © 2007 Uranian Nights
---

In the mid-1980's I was in a band in Michigan called The Task (it was the era of "The" names).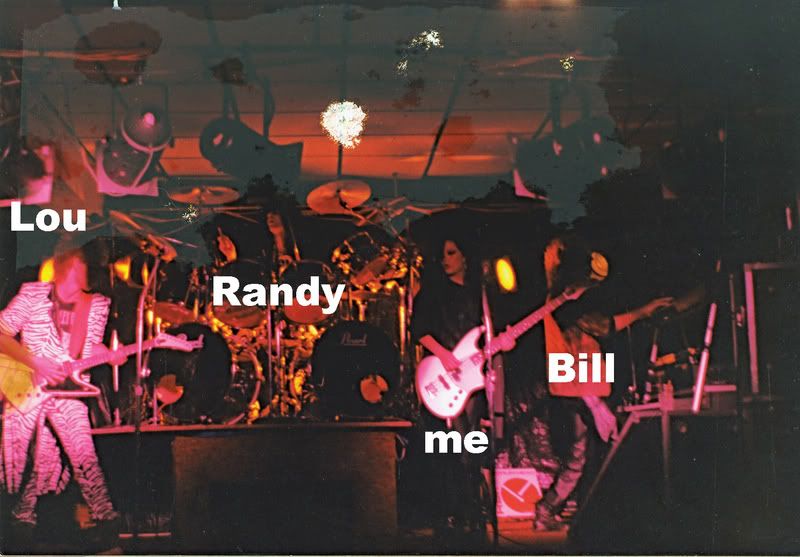 We toured the "A" club circuit in the tri-state area (OH-MI-IN) playing 4-6 nights per week, doing mostly covers and a handful of originals. We definitely leaned toward the hair band genre but our musicality was pretty complex. We covered everything from Ratt, Dokken and Mötley Crüe to Journey, Kansas, Boston, and Heart. Our unique ability to improvise off the cuff and play songs by ear came in handy when the band was mis-booked. If we were at a club that leaned more towards Top-40, we could adjust and pull off fairly successful versions of Whitney Houston if needed, or Judas Priest if we wound up in a biker bar. (Booking agents were notorious for tossing bands gigs that didn't match the band's set lists.)

But what was different about us was that we were all about writing our own music. We took advantage of the practice opportunities that being set up at a club all week provided. Most cover bands treated gigs as just a job: set up, play, drink until dawn, sleep all day, crawl out of bed, do the gig, repeat. Sure, our band would hand out after the gig and have dinner at 4 AM, in bed by dawn and not rise until 1 PM. But instead of waking up, cracking a beer and plopping ourselves in front of the TV until gig time, we would have breakfast (at 1 PM), then meet the bar owner at the club to unlock the doors, then we'd spend the afternoon rehearsing new material and writing new songs. Then we'd grab "lunch" around 6 PM and unwind at the motel until gig time.

I played bass and sang lead vocals. Bill played keyboards and sang the occasional lead (to give me and the audience a break). Randy played drums and Lou played guitar and everyone sang backup vocals. That's right. We had four-part harmony. IN KEY.

If you want an idea of the complexity of the music we played, head on over to YouTube and listen carefully to the bass and vocal lines of Heart's "Never" and try to imagine playing the syncopated bass line and staying in that rhythm while simultaneously singing the counterpoint rhythm of the vocal line. Or, listen to Boston "Smokin'" (apologies for the quality of that, best I could find, it's live with a jam section... we stuck to the original studio version heard on the radio) or Kansas "Carry On (My Wayward Son)", two other songs in our set list. (You can see why we rarely drank during the shows, LOL!)

Well, we did the club circuit for awhile, recorded nine songs, and eventually disbanded; we took a couple of years "off" then regrouped. Our guitarist, Lou, had quit music so we needed a new guitarist. Enter Ron, whom Randy stole from another band. I think. It's a bit hazy. All I remember is that Ron was THE guitarist we'd been looking for forever. The chemistry was set. But we only played a couple of gigs and wrote a few songs before life happened. We knew we had to make a move to take the next step, but we had four different opinions on where to go and how to do it, and we couldn't resolve it, so we just disbanded. I moved to LA then back again and got my bachelors in fine art, Ron took a job with a cover band that actually paid a salary, Randy got a DJ gig, and Bill went to grad school, got married and had two kids.



Friday night, I met up with two of my three former bandmates, Bill and Randy, up in Michigan. The only one missing was Ron because he's in Nebraska (darn it, I really wish he could have been there!). Bill is, of all things, a physicist now (I know, right?) doing research in California
dealing with solar weather
(as in, weather in outer space). (It still seems so weird to me that he does this.) He flew to Michigan to give talks at some physicists' conference. After he was done, the three of us met up at Applebee's, had dinner, then Randy drove us from Ann Arbor to Detroit to watch one of his current bands perform. The guy drums for two bands—one is an 80's Hair Band Tribute band (the one playing last night) and the other is an all-original project.

Being together, it felt like no time had passed at all. None. Like it was yesterday and we were out gigging. Randy has not changed one iota, he looks like time stopped in the 80s. Bill and I look essentially the same, but a little older and *ahem* more filled out than we were in our younger (starving) rocker days. It's the first time I've been in a smoky club like that in 8 years (since quitting my last band). I could do without the smoke... but the rest of it was a blast! Bill & I sat in with the band during third set—Bill on keys, me on vocals only—and performed Journey's "Separate Ways". It FELT great.

The only thing that sucked was that I had absolutely nothing in the monitors so I couldn't hear myself at all! Nobody could on stage (and the soundman was too drunk to pay attention). But the reports from the audience said they could hear it great, and we got more applause and cheers than the rest of the band got all night (so we must not have sucked, LOL). I wish I'd thought to record it. Y'know what? It's time. Time for me to dig out our old videos, digitize them, and upload them to YouTube, and post MP3s of our studio recordings on MySpace. I'll keep you posted on that.

Hmm. It just occurred to me how fitting the lyrics of that song were to our band's situation.

"One night will remind you... how we touched and went our separate ways..."



I had forgotten how funny those two are. OMG. No wonder I have such fond memories of that band. The odd thing about this band versus all the other bands I've been in is the intelligence level.


Bill

(above left, as always, click for bigger) is a physicist—he's a genius. But absent-minded as hell which adds a comic element. He's the true Absent-Minded Professor. We always thought he kind of resembles basketball player Larry Bird. But OMG can he play keyboards. It's mind-blowing. (Classically-trained pianist.) He and I were the primary songwriters for the band before Ron joined and added his elements. Our writing styles are different, but complementary, and Bill has this knack for taking my songs and arranging them just right.
Randy

(above right)... when he walks in the room, people do doubletakes because they think it's Tommy Lee (from Mötley Crüe). He drums like that, too. Flash, spinning the sticks, standing on his drums, so solid on the beat we used to call him Metronome. I mean his drumming is perfect precision. You wouldn't expect these two to be in the same band or have the same intelligence level, but they do. Randy is fricking genius-level smart. (I guess he's the true oxymoron of drummers because he's a drummer who isn't a moron. No offense to any drummers out there, it's a stereotype, I know.)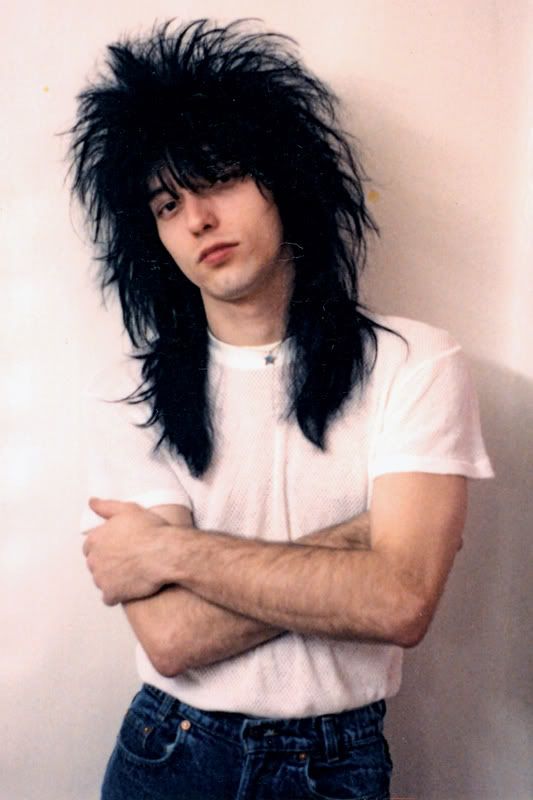 Ron?

Well... even though he wasn't there last night (due to his day job in Nebraska), I'm posting an ancient photo of him. He doesn't look like anyone except Ron. Which, in my eyes, ain't such a bad thing, if ya know what I mean. Excuse me while I drool over here. And, yeah... since I'm sure you're wondering... we

were

. ;-) That was MY main squeeze. He's a phenomenal guitar player, a great songwriter, and one heckuva genuinely nice guy.


And just for fun, here's what *I* looked like back then.



Scary, ain't it?


(BTW, I took the photos of the boys but we forgot to take one of me that day. Ooops.)

Here's the band all together. My Dad took this picture. Since Bill, Randy and Ron all lived up in Michigan, my parents had graciously allowed the boys to stay at our house for a few days every couple of weeks so we could practice in the family room (also where the boys "lived"). This must have been a Friday or Saturday night. We were heading out for the evening to a club to watch another band (so for Ron and I it doubled as a date). (Yeah, I realize in the photo I'm leaning on Bill. That's only because Dad was watching, and Bill was "safe".)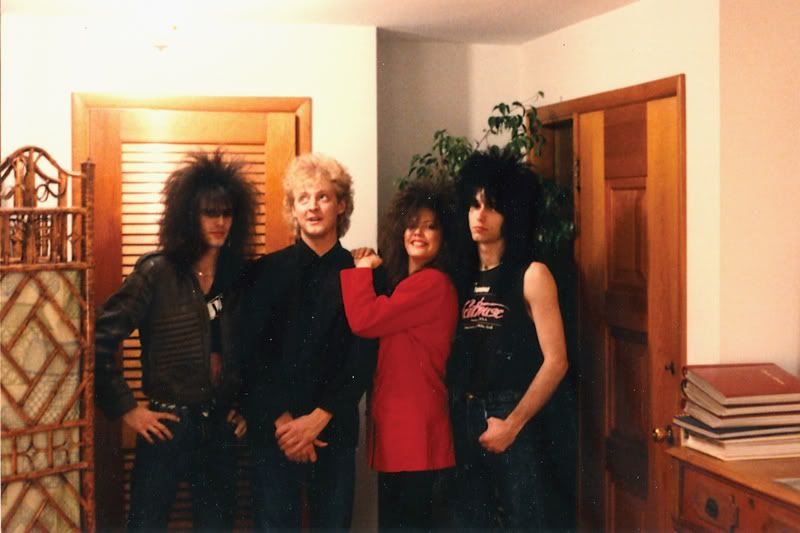 Example of their bizarre sense of humor: Randy said to me last night, "So, I hear that you're pursuing

Sequential Textile Engineering

."

It took me a minute to put it together before I laughed.



Sequential Textile Engineering

="knitting"

to the rest of the world.

I guess you'd have to be there. It cannot be described. Their sense of comedic timing and being able to play off of each other as they toss ideas around is impeccable. And if we added Ron to the mix... I'd be dead from laughter. I mean, how lucky could I have gotten, to have that band? Full of extremely talented musicians with the bonus that we're all on the same level, have the same uncommonly strange sense of humor, and a fantastic musical chemistry? We have always been the sole four members of a mutual admiration society.


Their humor level goes over so many people's heads (which is too bad, because it's sidesplitting). But I get it. And all night I nearly spewed beer/food about 1,000 times and I laughed so hard my stomach hurt today. Since losing my parents, I haven't genuinely laughed much in over two years. But Friday night? That was in another galaxy. I have not laughed like that since the 1980s! I mean belly laughs, complete with the occasional unintentional snort, totally unrestrained. The way you laugh when life is perfect, all the planets are aligned, and you have no worries or cares in the world. The way you laugh when you're a kid.

For the first time in years, I woke up genuinely, truly happy (granted, it was 2:30 PM because the sun was rising as I drove home—haven't done that in years, either!), motivated, and surprisingly feeling kind of like someone I'd forgotten how to be. If that makes any sense. I've got energy. I'm practically VIBRATING with energy. Like my horoscope said, my Circadian Rhythms are completely screwed up now, but I feel more alive than

ever

. I'm almost tearing up as I write this, because I thought that feeling was lost forever.

It's not.

It's still there

. For the first time in too many months, I am looking forward to life. I see possibilities. I SEE a future.

That band should have "made it". But in the 1980s, female singers weren't common—it was unbelievably hard to convince most bands just to let me audition based solely on the fact that I didn't have the right "equipment". I wish I'd come up with the perfect response back then—I have, since. Apologies for the off-color language, but I can't count how many times I was told

"you're a really kick-ass singer, but you don't have a dick and balls"

. I

should

have responded,

"Neither do you, or you'd take a chance on having a woman front your band"

. Luckily for me, Bill and Randy were looking FOR a female singer.

In addition, recording/producing/distributing music in the 80's was REALLY expensive. You had to go into a professional studio to record (at minimum $40/hr), you had to have a contract with a recording company to get access to the distribution channels so your albums would get into the stores and on the radio, and you had to press vinyl. We got as far as recording and mixing the 9 songs, pressing the glass master, and getting three test pressings in vinyl of the album (and personal tape copies) before we ran out of money. I think we got it played on local radio a handful of times but that was it.

So eventually the band split and life happened. But we all stayed loosely in touch. Over a 20-year time span through Bill's marriage, everyone's jobs and major life events, and many relocations.

Here's the funny thing. NOW, all of us have at least one if not more computers. NOW, we all have high-speed internet. NOW, we all have fleshed out our musical arsenals to ridiculous proportions—Ron has 30 guitars, Randy has 10 full drum kits (and guitars, a bass and keyboards), Bill has a top-of-the-line weighted keyboard rig, and I have my seven guitars, bass, banjo, and Hawaiian slide guitar (I'm working on learning to play those last two). NOW, we all have recording software on our computers and digital recording devices of some sort.

NOW, technology has made it possible to get professional-quality recording in a home studio environment for a fraction of what it used to cost to record a three-song demo. Technology has also made the world far smaller. NOW, a band can record a song tonight, upload it to MySpace or Limewire or GarageBand (or even iTunes), and by tomorrow morning, fans can download it in Japan, Australia, Iceland... as long as they have an internet connection, they have access. And it's all possible

without

the restrictions or interference of a record label.

Technology has also made it possible to record an album while living in different parts of the world. Again, all you need is a laptop, an internet connection, and the right software, and the drummer can track his parts in Michigan and upload the rough mix... the keyboardist can lay down his riffs in California and add it to the mix and upload that... the guitarist can jam his parts in Nebraska and send it off to the singer/bassist who can record her parts in her little studio in Ohio...

Do you see where this is going?



The Task

lives again. Long live

The Task

.

Actually, long live

the band with a new name yet to be determined

since the name we had renamed ourselves with when Ron joined is already taken by a goth metal band in LA (

Dame Fortune

—who are, BTW, really cool guys—I communicated with the guitarist a few years ago about the name when Bill and I had been considering releasing the old stuff under that name and found the domain name was already taken; since they were an actively playing band, Bill and I agreed to let it go) and The Task, well... clunk clunk.

Long live... TBA.


---
Labels: music, positive thinking, the band